Aziz Mirza the director who gave us such beautiful films like Raju Ban Gaya Gentleman, Yes Boss and Chalte Chalte gets a rather unusual pair of Shahid Kapoor and Vidya Balan on screen with his film Kismat Konnection . While Shahid has tasted recent success with Jab We Met, Vidya Balan has also had two super hits with Bhool Bhulaiya and HBeyy Babyy being two of the biggest successes of the past year. But the pairing is definitely unusual. Shahid with his chocolatey boyish charm and Vidya with her mature looks definitely look odd together.
But with a man as experienced as Aziz Mirza to select such a cast there must have been a proper reason. So let's just wait and see for Kismet Konnection to hit the theatres this month, and we will know what will be the Kismet off this movie.
The Kismet is definitely good on the music front with Pritam being bang on with his sound track. Here's a look at the Move Your Body song from Kismet Konnection. While Shahid dances suavely, Vidya definitely makes a mockery of herself with moves that do not suit her.
Watch a preview of the Move Your Body song from Kismet Konnection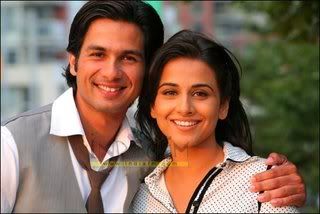 Pic : Shahid And Vidya From Kismet Konnection Movie