Dibankar Banerjee's
Oye Lucky! Lucky Oye!
is set for a release on 28th November. Starring Abhay Deol, Neetu Chandra and Paresh Rawal (in a triple role), Oye Lucky is sure to be a laugh riot. Film Preview : Oye Lucky! Lucky Oye! Film Preview The story of the film, "Oye Lucky! Lucky Oye!" is about a man from a lower middle class background who dreams of getting rich when he is a teenager ,he becomes a thief to make his dreams come true and later he realizes that he not only want money but also the respect that he has been watching, the rich men get from the society
A 15 year old Sikh boy is on of the most wanted thieves of the city. What has been his ambition is that he wants to be rich and to have lots of money. He has been getting inspired from riche school kids, luxury cars, power windows and rich girls. What Lucky understands from life is that if you want a thing, you have to steal it. Lucky has been living in a small house having a violent relationship with his father and he is a keen observer of people around him. His friends are school dropouts and street criminals. Along with his friend Bangali, Lucky graduates to become a thief and then he meets a man Gogi Bhai, who is a musical bandleader, in search of stolen things. Lucky meets Dolly, who is star dancer and she has a college going sister Sonal, who is romantically involved with Lucky. Lucky loves to be independent and he has a hunger to reach the sky. He takes a wrong path to get his dreams and now he is playboy who just wants more money and wealth.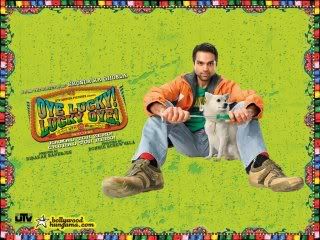 Pic : Abhay Deol In Oye Lucky! Lucky Oye! Wallpaper