323 views
R. Balki's production English Vinglish, which is directed by his wife Gauri, has already received positive impressions based on its first look trailer. Sridevi with her cute performance as the housewife who does not understand English looks sure to win the audience hearts yet again with her comeback to the big screen.
English Vinglish features French actor Mehdi Nebbou, Adil Hussain, and Priya Anand. Amitabh Bachchan makes a guest appearance in the Hindi version of the film, while Ajith Kumar comes in for the same role in the Tamil version.
The movie is set to release on 21st September. Till then you can watch the theatrical trailer of the movie and also catch the English Vinglish title track with lyrics right here.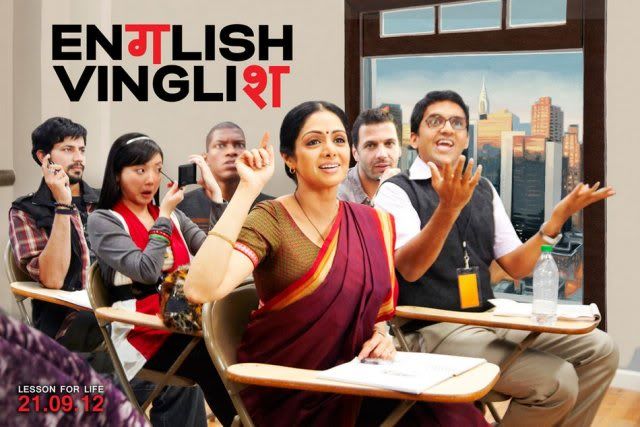 Pic – English Vinglish Movie Poster First Look
Video – English Vinglish Karaoke Lyrics Sing Along Song 
Video – English Vinglish Sridevi's Theatrical Trailer
See if you can spot Amitabh Bachchan in the below trailer. Cann't? Check at 52 seconds.
Share Video – English Vinglish – Sing Along With Lyrics with your friends on Facebook.
RELATED BOLLYWOOD STORIES:
«« Video – Arya's Settai Delhi Belly Remake Theatrical Trailer | Video – Kismet Love Paisa Dilli Theatrical Trailer »»