86 views
Anurag Kashyap has had a good year – Gangs Of Wasseypur which is being shown as a two part film has been appreciated by critics and film goers alike. The movie made at a budget of only Rs. 18 crore has been declared a hit.
Anurag Kashyap's next film, this time as a producer has its first theatrical look out. The movie stars his wife, Kalki Koechlin. Other cast includes Chandan Roy Sanyal, Gulshan Devaiya. Directed by Rohit Khaitan, the movie would be Anurag's first horror film.
"Prague  revolves around three young architects that experience paranormal activity while exploring the city of Prague, which is famous for its paranormal tales. I couldn't be happier that my mentor of so many years is producing my first film. I couldn't have asked for a better starcast than Kalki. I am so glad she agreed to do my film. The film features Chandan Roy Sanyal, Gulshan Deviah and a new boy as the three young architects," says director Rohit Khaitan.
Here is the first look trailer of the horror film Prague.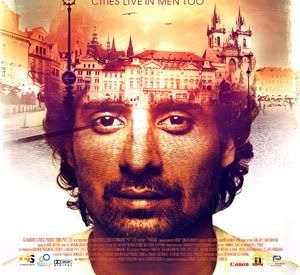 Pic – First Look Poster Horror Film Prague
Video – Prague Movie Theatrical Trailer 
As like most Anurag films the movie looks stylishly shot much like his earlier film Shaitan. Lets see if this movie has enough meat in it to engage the audience.
Share Video – Anurag Kashyap's Prague Movie Theatrical Trailer with your friends on Facebook.
RELATED BOLLYWOOD STORIES:
«« Video – Heroine Movie Kareena Kapoor Theatrical Trailer | Anurag Kashyap's Prague First Look Wallpaper »»