58 views
While Manoj Bajpai was the main character in Gangs of Wasseypur, Nawazuddin Siddiqui seems to be the highlight of the concluding part of this gangster flick. The trailers of the second part have got a phenomenal response and are going viral on social network circuits. The chemistry between Nawaz and Huma Qureshi and the ove through their aviator glasses surely seems to be one of the reasons to catch this flick.
The next song of the movie, Dil Che Cha Ledar is again quirky in the way its written and the music too is very different, while still resonating the fact that it belongs to the Gangs Of Wasseypur soundtrack.
Gangs Of Wasseypur 2 releases in August 2012. Expect the revenge saga to get only more bloodier and gorier.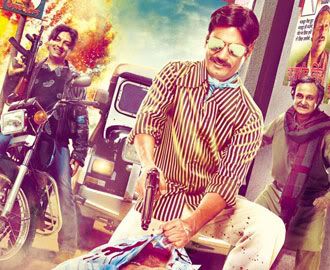 Gangs Of Wasseypur 2 First Look Wallpaper
Video : Dil Chhi Chha Leader Song Promo From Gangs Of Wasseypur 2
Share Video : Dil Chhi Chha Ledar Song Trailer – Gangs of Wasseypur 2 with your friends on Facebook.
RELATED BOLLYWOOD STORIES:
«« Nargis Fakhri No Longer In Akshay's Khiladi 786 | Video : Yeh Kasoor Hot Song Trailer From Sunny Leone's Jism 2 »»