98 views
This might be a first for Bollywood. The famous Hollywood director, Quentin Tarantino has admitted to be so impressed by the animated action scenes from Kamal Hassan's psychological thriller Abhay, that he used similar ones  for his movie Kill Bill. Now that indeed is a huge compliment for Kamal Hasan.
Apparently Tarantino admitted in a private conversation with Anurag that the celebrated animation-action sequence in Kill Bill was inspired from 2001 Hindi-Tamil film, Kamal Haasan starrer, Abhay. When contacted, Kashyap says, "Yes, Sight and Sound critic Naman Ramchandran first told me this. So when I met Quentin in Venice I asked him whether the Manga sequence in Kill Bill was inspired from an Indian film and he excitedly remarked, 'Yes, I saw this Indian serial-killer film which showed violence as animated.'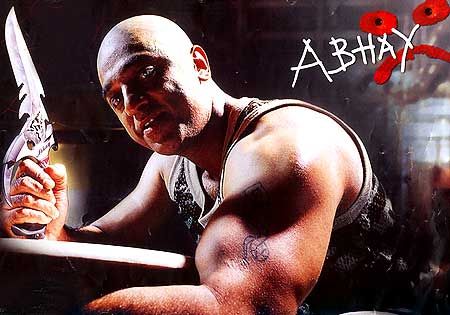 Pic – Kamal Haasan's Abhay Movie Still
Kashyap explains, "There is only one Indian serial-killer film which was made before Kill Bill where violence was animated, and that was Abhay."
Kamal Haasan, who starred in Abhay, has his own take on the compliment. "When I did the animation action sequence 12 years ago it was seen as self-indulgent and odd by a lot of people. Now that it has been endorsed by a filmmaker of such brilliance, critics will be kinder to some of the things I attempt in my films."
Share Quentin Tarantino Takes Inspiration From Kamal Haasan's Abhay with your friends on Facebook.
RELATED BOLLYWOOD STORIES:
«« Akshay Kumar And Sonakshi's Joker Movie Pictures | Video : Akshay Kumar's Joker Theatrical Trailer »»