187 views
The first look of Sanjay Dutt's starrer Sher is out. The film is directed by Soham Shah of Kaal fame. Sher which is based on the Gujarat underworld is also said to feature Vivek Oberoi, Suniel Shetty, Paresh Rawal and Prakash Raj, while Chitrangda Singh is currently in talks with the production house for the part of the leading lady.
Humaima Khan who earlier starred in the Pakistani film Bol, will play Sanjay Dutt's wife in the film. Regarding her first ever opportunity to star in an Indian film, Humaima says, "I feel I'm crossing the border with a role that echoes my earlier film. I am not just the male protagonist's wife here. Like my character in BOL, here too, my character revolts against patriarchy."
Here, we bring to you the exclusive first look of the movie Sher. Sanajy Dutt surely looks to be in total character of an underworld don for this film and this seems to be a movie to watch out for.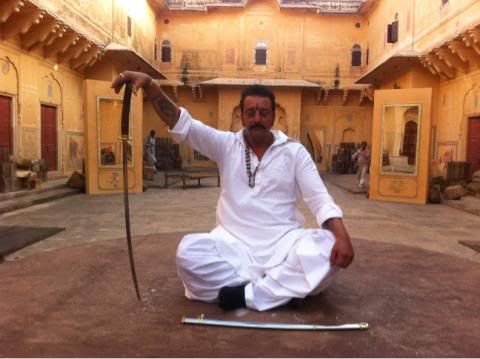 First Look : Sanjay Dutt In Sher Movie Exclusive Wallpaper 
Share First Look Sanjay Dutt's Sher Movie Wallpaper with your friends on Facebook.
RELATED BOLLYWOOD STORIES:
«« First Look : Preity Zinta's Ishkq In Paris | First Look Of Jayanta Bhai Ki Luv Story Wallpaper »»