51 views
Anurag Basu's highly anticipated movie, Barfi is finally out with its first look trailer. The movie that is among one of the most anticipated movies, stars Ranbir Kapoor, Priyanka Chopra and Ileana D'cruz.
Ranbir Kapoor plays the character of a deaf and dumb person, while Priyanka Chopra essays the role of an autistic woman. Considering the lead pair does not have any dialogues in the movie, one might think that the movie is for the art movie lovers and not for commercial cinema. But Anurag Basu is quick to say, that Barfi is not dark and grim, but its a happy and lovely commercial film.
Also clarifying queries on whether Barfi! is a silent movie, Anurag Basu responds, "Its not that there are no dialogues in the entire film. I did not think that I will make a silent film with no dialogues from beginning to end. Those who can speak have dialogues. I wanted that everyone should understand the story."
The first look trailer of Barfi is simply amazing to say the least. Without any dialogues in it, with just a rejuvenating background score and talented actors at the forefront, the trailer mesmerizes you and keeps you wanting for more.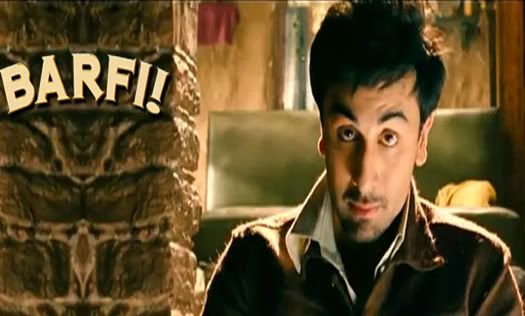 Ranbir Priyanka's  Barfi Movie Theatrical Trailer
Theatrical Trailer Of Barfi! Movie | Watch Movie Online 
The Barfi trailer has already received immense praise from audience and critics. What's your take on the trailer. Let us know in the comments section below.
Share Video : Ranbir Priyanka's Barfi Movie Theatrical Trailer with your friends on Facebook.
RELATED BOLLYWOOD STORIES:
«« Video : Sridevi English Vinglish Movie Exclusive Theatrical Trailer Online | Aamir Khan's Talaash Movie Pictures and Wallpapers »»