208 views
Kya Supercool Hain Hum, the sequel to the dirty comedy Kya Kool Hain Hum from the house of Balaji Productions is set for a release. The movie that stars Ritesh Deshmukh and Tushar Kapoor, promises to be much more dirtier, funnier and nastier than its predecessor. Filled with double meaning dialogues and sexual jokes, the movie is targeted at the youth. Neha Sharma and Sarah Jane, play the female leads in this movie.
Kya Supercool Hain Hum  revolves around the friendship between the male leads and how circumstances lead them to venture on a mad road trip to Goa in pursuit of love. Once in Goa, more characters emerge on the scene as comic mayhem unfolds. The movie promises unparalleled fun & frolic, ensuring that the audience too, back-packs on this 'Kool' road-trip!
Kya Super Kool Hain hum is set to release on 27th July 2012. Watch out for this comedy.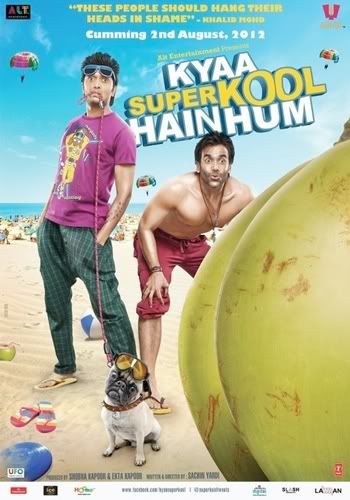 Here is an exclusive first look watch of the trailer from Kya Supercool Hain Hum  Video : Dil Garden Garden Song From Kya Supercool Hain Hum Trailer 
We personally did not find the song catchy enough. How did you like the song? Share your comments below.
Share Video : Dil Garden Garden Song From Kyaa Super Kool Hain Hum Trailer with your friends on Facebook.
RELATED BOLLYWOOD STORIES:
«« Hot Sexy Pictures Of Sunny Leone In Jism 2 | Video : Hot Sunny Leone Jism 2 Title Song Trailer »»