815 views
Shirish Kunder after his well made debut Jaaneman is back with his next film Joker. Although Jaaneman was a superior product in terms of the direction and filming, the movie did not do too well at the box office. He however has very high expectations from his next film, Joker starring Akshay Kumar, Sonakshi Sinha and Shreyas Talpade in lead roles. The movie is produced by by Farah Khan, Shirish Kunder, and Akshay Kumar under the banner of Three's Company and Hari Om Entertainment.
The film, Joker, is an adventure fantasy film and will be released in both 2D and 3D formats. This will be the fourth Bollywood film after – Haunted, Ra-One and Don 2 to be released in 3D format.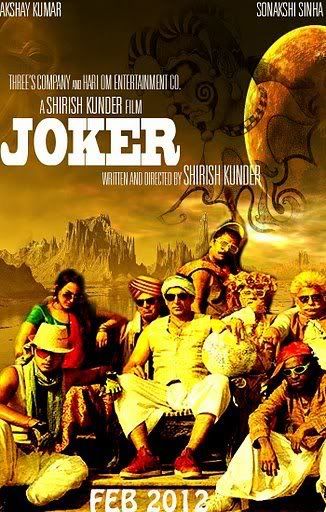 Pic – Joker First Look – Wallpaper – Akshay Kumar 
Joker is set to release in August 2012. 
Pic – Joker – Akshay Kumar Movie Wallpapers And Images
Share First Look – Akshay Kumar's Joker Movie Wallpaper with your friends on Facebook.
RELATED BOLLYWOOD STORIES:
«« Video : Aamir Khan's Talaash Theatrical Trailer First Look | Video : Agent Vinod Theatrical Trailer – Kareena And Saif Ali Khan »»