2,474 views
Katrina Kaif, Bollywood's hottest female celebrity at the moment is in for a total role reversal. The hot and sexy actress is all set to underplay herself and is going to play a role modelled  on Sonia Gandhi.
The movie titled Rajneeti will have Katrina Kaif play a woman politician and a role that is supposedly modelled on Congress Chief's Sonia Gandhi. Rajneeti directed by Prakash Jha is sure to fall into some sort of controversy when it releases but until then here are some exclusive snaps from the shooting of Rajneeti.
Apart from Katrina Kaif in the lead role, the movie Rajneeti has Ranbir Kapoor and Nana Patekar in the lead role.
Pic : Katrina Kaif On The Sets Of Rajneeti
Pic : Nana Patekar and Katrina Kaif On The Sets Of Rajneeti
Check out more exclusive pictures on the sets of Rajneeti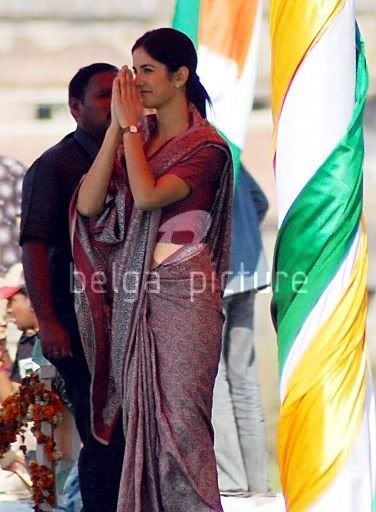 Pic : Hot Katrina Kaif Pictures From Rajneeti
Share Pics : Katrina Kaif Plays Sonia Gandhi In Rajneeti with your friends on Facebook.
RELATED BOLLYWOOD STORIES:
«« Pic : Ranbir Kapoor Cover Photo On GQ Magazine | Pics : Akshay Kumar And Kylie Minogue Pictures From Blue Movie »»