1,896 views
International pop singer Kylie Minogue will be seen doing her Bollywood appearance in the Akshay Kumar flick Blue. The movie already has good star quotient with Katrina Kaif and Lara Dutta also being a part of Blue.
Apart from shaking a leg for director Anthony D'Souza's 'Blue', she's also fallen in love with all things Indian and has even draped a sari for a part of a song.
'She wanted to go through the full India experience, including the khaana (food), wedding and of course the Taj Mahal and Jaipur,' the source added.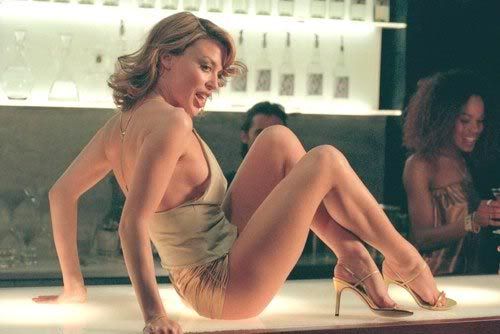 Pic : Kylie Minogue And Akshay Kumar Hot Song In Movie Blue
D'Souza too said that the international pop star was a fan of Hindi films and, of course, Akshay.
'Kylie is a big Bollywood buff. She has done her homework and has seen lots of our movies. And she's a huge Akshay fan. She's seen lots of his films. I think she was at the premiere of 'Chandni Chowk To China' in London. The comfort level between them comes from the fact that Kylie knows Akshay's work,' the director said.
'She gets the nuances perfectly correct. And she's very intelligent. I've shot with her for a week and I'm bowled over by her professionalism. She's a fantastic performer,' said D'Souza.
With Bollywood getting attracted to the West, it seems we might well get to see many such international stars dancing to Bollywood tunes.
Share Kylie Minogue Song In Akshay Kumar's Blue Movie with your friends on Facebook.
RELATED BOLLYWOOD STORIES:
«« Pics : Sonam Kapoor With Farhan In Oye It's Friday! | First Look : Harman Priyanka's What's Your Rashee »»