184 views
A.R. Rehmann has done India proud by winning not one, but two Oscar awards. With a superb soundtrack in Slumdog Millionare capturing the rawness, struggle, hope and dreams of the Mumbai slums in his soulful music, A.R. Rehman was favorite for winning atleast one Oscar awards. But the perfectionist musician got not one but two award but two awards for which he had been nominated.
Rahman is the third Indian to win the coveted golden statuette, picked up the awards for his best original score as also the best original song "Jai ho" from the film with lyrics by Gulzar and Sukhwinder Singh as the lead singer.
"God is great!" Rahman exclaimed in Tamil as he picked up the awards, saying he was as excited and terrified before coming here as he was at his marriage.Rahman also thanked his mother for her unconditional love.
Check out the exclusive video of A.R Rehman performing at the Oscars.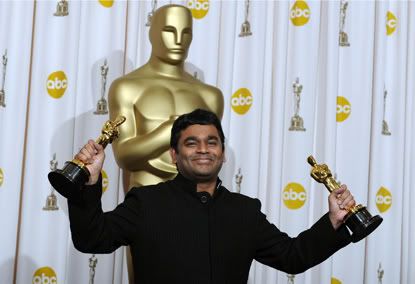 Pic : A.R. Rehman At The Oscars
Video : A.R. Rehmann Performing Live At The Oscars
Share A.R. Rehman Wins Oscars with your friends on Facebook.
RELATED BOLLYWOOD STORIES:
«« Video : 13 B Horror Movie Trailer | Why Gulzar And Sukhwinder Did Not Go Oscar Awards »»