661 views
Zoya Akthar, sister of actor-director Farhan Akthar is all set for her directorial debut, Luck By Chance. Farhan Akthar who is high on the success of his debut film Rock On , will play the leadd role in Luck By Chance. Apart from that the movie boasts of a huge star cast including Hrithik Roshan, Rishi Kapoor, Dimple Kapadi, Isha Shravani play the lead role. Here is a brief preview of the movie, Luck By Chance courtesy indiafm.com
Sona (Konkona Sen Sharma) arrives in Bombay with her dreams of becoming
a film star. Wide eyed but ambitious, she does whatever it takes, to
make it. She lives on her own in a rented apartment – a luxury for most
in this bustling city and spends her time with a motley crew of loyal
friends whose lives are also entwined with Bollywood, each one in
search of a bigger dream.
Vikram (Farhan Akhtar) has just moved to the city leaving the comforts
of his parents Delhi home. He is a mover, he is used to getting what he
wants and is smart enough to know when to demand it and when to
manipulate it. He is young and handsome, and full of promise. Sona
begins to enjoy Vikram's attention and affections; they develop a
romantic relationship.
Rolly (Rishi Kapoor) is a successful though superstitious producer who
only works with the biggest stars. He is making a potential blockbuster
launching the nubile Nikki Khurana (Isha Sharwani), the 18-year-old
daughter of 70′s superstar, Neena (Dimple Kapadia). The hero of the
film, Zaffar Khan (Hrithik Roshan), is Rolly's favorite superstar. He
was launched by Rolly and went on to become a huge draw at the box
office.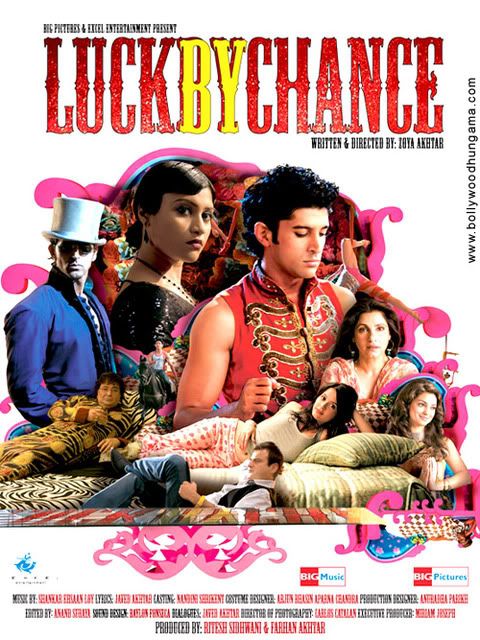 Pic : Farhan -Hrithik And Konkona In Luck By Chance
Check out the complete movie preview of Luck By Chance movie online
The wheels of fate indeed continue to spin favorably for Vikram, as
elsewhere in the industry, havoc spreads on the sets of producer Rommy
Rolly's new film. Vikram is called in for an audition and uses this
opportunity to the fullest.
The film is about a slice of Bollywood life, in which Kismet plays a
huge role. Here, notions of superstition, fate and destiny underline
every life, as grand desires and opportunity converge to form strange
patterns. In such an unpredictable climate is success and failure what others define for you or is it something you decide for yourself.
Luck By Chance is a contemporary tale set in a world desperate to escape its own reality.
Share Preview : Luck By Chance Movie Preview with your friends on Facebook.
RELATED BOLLYWOOD STORIES:
«« Pic : Priyanka Deepika Kareena Pictures From Billu Barber | Video : Arziyaan Maula Song Trailer From Delhi 6 »»