4,493 views
Priyadarshan has managed to get a rather glamorous cast for his upcoming movie Billu Barber. Shah Rukh Khan, Priyanka Chopra, Kareena Kapoor and Deepika Padukone : what more can you ask for in one film. Though Irrfan Khan plays the lead role of Billu Barber, the glamor quotient of the movie is sufficiently high to draw in huge numbers when the movie opens in theatres. Here are some exclusive pictures of the high profile star cast in Billu Barber.
Pic : Hot Deepika And SRK Photo From Billu Barber
Pic : Priyanka Chopra and Shah Rukh Khan Hot Picture from Billu Barber
Check out more exclusive pictures from Billu Barber…….
Pic : Shah Rukh And Kareena song From Billu Barber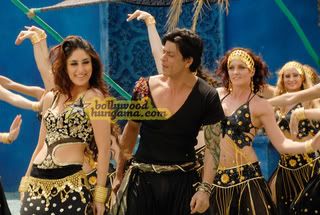 Pic : Kareena Kapoor And Shah Rukh Khan Hot Song From Billu Barber
Share Pic : Priyanka Deepika Kareena Pictures From Billu Barber with your friends on Facebook.
RELATED BOLLYWOOD STORIES:
«« Aamir No Longer A Part Of Delhi Belly | Preview : Luck By Chance Movie Preview »»