4,687 views
Last year he won your hearts with the critically acclaimed touching story of a child affected with dyslexia. And this winter Aamr Khan is back with a tale of love and revenge. Ghajini which was set for a Diwali release this year, is now scheduled for a release this December.
To be released on 25th December 2008, Ghajini is a remake of A.R. Murgadoss's Tamil film, Ghajini which inturn was a lift from Hollywood's taut thriller Memento. Christopher Colan did an amazing job with presenting  Memento with a tight rivetting screenplay. It's for us to see whether Ghajini would do the same.
Aamir Khan has shown that impossible is nothing. Within ayear;'s time Aamir has managed to pull off a body that would put the muscle men of Bollywood ala Hrithik Roshan and Salman Khan to shame. Check out his six pack toned abs and rocking biceps in the picture below. This is just the tip of the iceberg. Wait for 25th December to get shocked by seeing Aamir better himself yet again.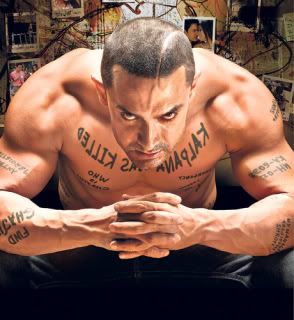 Pic : Aamir Khan Taatooed Body For Ghajini
Check out the  first look theatrical trailer of Ghajini. A.R. Rehmaan seems too have created magic once again with his instruments.
Video : Ghajini Theatrical Promo | Aamir Khan's Ghajini
Share Video : Aamir's Ghajini First Look Theatrical Trailer with your friends on Facebook.
RELATED BOLLYWOOD STORIES:
«« Video : Tu Hi To Meri Dost Hai Song Trailer From Yuvvraaj | Video : Haule Haule Song Trailer From Rab Ne Bana Di Jodi »»