1,746 views
Salman Khan is off to complete his successful stint on Indian television with the game show, Dus Ka Dum. September 14th, Sunday will witness the end of season 1 of Dus Ka dum. The serial was widely popular and has soared up the TRP charts ever since it began.
While many friends of Salman have graced Dus Ka Dum show, the finale will have Salman Khan greet Rani Mukherjee and Lara Dutta on the show. Rakhi Sawant and Shakeel will also be seen later in the show.
Highlights of the show are Salman and Rani Mukherjee talking about the Salman and Shah Rukh Khan fight. And also Rakhi Sawant asking Salman to marry her. Is Katrina getting jealous? I bet she is saying, good riddance
Pic : Salman And Rani On Dus Ka Dum TV Show
Pic : Say Cheese – Lara , Salman and Rani On Dus Ka Dum Photoshoot
Pic : Rani Mukherjee And Lara Dutta On Dus Ka Dum Finale
Check out more pictures from the Dus Ka Dum finale
Pic : Lara And Salman Get Crazy On Dus Ka Dum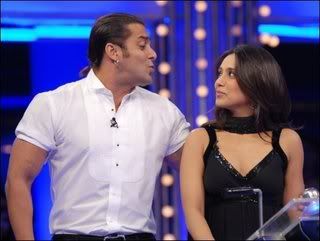 Pic : Salman and Rani Kodak Moment
Share Pics : Rani And Lara On Salman's Dus Ka Dum Finale Pictures with your friends on Facebook.
RELATED BOLLYWOOD STORIES:
«« Gulshan Grover In Himesh's Karzzz | Nandana Sen's Hot Scene From Rang Rasiya Cut »»