758 views
Imran Khan tries to break away from the chocolate boy character that he got in Jaane Tu Ya Jaane Na with Sanjay Gadhvi's Kidnap. Imraan's shift from an all white to a dark character so early in his career is really admirable.
Kidnap directed by Sanjay Gadhvi is an action thriller. Imraan kidnaps Minisha Lamba, the daughter of a multi billionare, Sanjay Dutt and holds Sanjay's life on tenterhooks.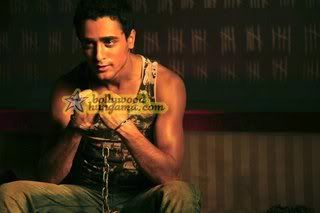 Pic : Imraan Khan Wallpaper Movie Kidnap
Catch the song trailer, Mit Jaaye from Kidnap.
Video : Mit Jaaye Song Kidnap Trailer (Promo)
So how do you prefer Imran, Jaane Tu Ya Jaane Na or Kidnap?
Share Video : Mit Jaaye Song Promo From Kidnap Movie with your friends on Facebook.
RELATED BOLLYWOOD STORIES:
«« Pic : Hot Sonam Kapoor Elle Magazine Cover Girl | Gulshan Grover In Himesh's Karzzz »»