585 views
Based on Chetan Bhagat's best seller, One Night At The Call Center, Hello, is finally ready for release. The movie directed by Atul Agnihotri stars Salman Khan, Katrina Kaif, Sharat Saxena, Sharman Joshi, Sohail Khan, Amrita Arora, Gul Panag, Dilip Tahil, Isha Kopikar and Suresh Menon in the lead.
Hello talks about one night. It is a night when dreams will finally crumble. Or will it? For there is that call from God. Narrated as a tale within a tale as a beautiful woman (Katrina Kaif) meets the author narrator (Salman Khan) and promises him a story on the condition that he has to narrate it further, Hello, based on Chetan Bhaqat's one night @ the call Center, is the one remarkable story from Tales from a Thousand and One globalizing, urban, Indian Nights.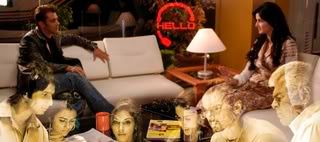 Pic : Hello Movie Wallpaper
Check out the theatrical trailer of Hello. Will Hello the movie be as popular as One Night At The Call Center the book? Only time will tell.
Video :Salman And Katrina Hello Movie Trailer
Share Video : Hello Movie Theatrical Trailer with your friends on Facebook.
RELATED BOLLYWOOD STORIES:
«« Video : Hari Om Hari Song From Himesh's Karzzz | Drona Movie Sequel Announced Before Its Release »»