10,479 views
Imraan Khan the nephew of Bollywood's superstar, Aamir Khan has bec ome a star himself after the spectacular romantic film, Jaane Tu Ya Jaane Na. Imraan impressed all with his chocolate boy looks and sincere performance. But for all girl fans of Imraan there is some pretty bad news….. Imraan is already booked and committed. So who's that lucky girl?
She's 23-year old Avantika, daughter of TV18′s head honcho, Vandana Mallik. Imraan and Avantika met at a social event a few months ago and since then have become inseparable. Avantika  is quite a familiar presence in Aamir and Imraan's home. At the music launch, during Imran"s speech, Avantika was seen proudly clapping and cheering him on"
Here are some pictures of Imraan along with his girlfriend during the premiere of the movie Dark Knight.
Pic : Imraan Khan With Girlfriend Avantika Malik
Imraan Khan exclusive pictures with girl friend Avantika Malik.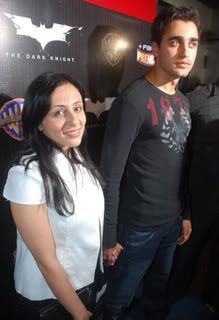 Pic : Imraan With Girlfriend Avantika
Share Pics : Imraan Khan With Girlfriend Avantika Mallik with your friends on Facebook.
RELATED BOLLYWOOD STORIES:
«« Video : Ram Gopal Verma's Horror Film Phoonk Trailer | Pics :Katrina Kaif On Baa Bahu Aur Baby »»