2,982 views
Mallika Sherawat is back with the team that gave the hit comedy yaar Ke Side Effects. But instead of Rahul Bose, talented actor Ranvir Shourie is cast opposite Mallika Sherawat. Directed by debutante Sachin Khot, the movie promises to be one mad cap comedy, and with Ranvir in the thick of things you can surely expect to have a hard time laughing.
While Anu Malik, who surely seems out of form with Love Story 2050, tries his luck to be back with Ugly Aur Pagli and he atleast manages abit with the Talli track. Sung by Hard Kaur, Talli is surely to be a hit with the club and disc audience.
Here's an exclusive video of Malikka Sherawat and Ranvir Shourie's Ugly Aur Pagli , Talli Song.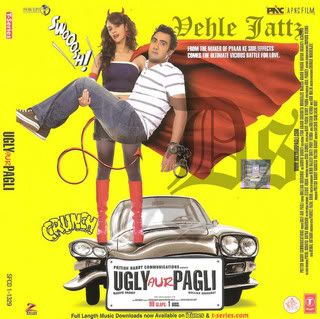 Pic : Ugly Aur Pagli Movie Wallpaper
Video : Main Talli Song From Ugly Aur Pagli (Trailer)
Share Video : Main Talli Ho Gaya Song Trailer From Ugly Aur Pagli with your friends on Facebook.
RELATED BOLLYWOOD STORIES:
«« Akshay Kumar and Neha Dhupia Stunt In Singh Is King Shoot | Pic : Katrina Kaif Childhood Picture »»