2,489 views
Shahid Kapoor And Vidya Balan's much hyped romantic comedy titled Kismet Konnection is all ready for its mega release. Shahid fresh from the success of Jab We Met and recovering from his breakup with Kareena looks very cute in the promos. While Vidya Balan is at her smashing best.
Directed by Aziz Mirza , who's last film Chalte Chalte starring Rani and Shahrukh was a smash hit at the box office, Kismet Konnection is a romantic comedy. Initially titled Lucky Charm, the movie was finally given a release title of Kismet Konnection.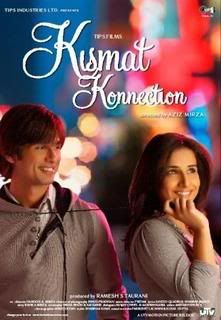 Pic : Kismet Konnection Movie Wallpaper
Watch the first look theatrical trailer from Shahid and Vidya Balan's Kismet Konnection
Video : Theatrical Trailer Of Shahid And Vidya Balan's Kismet Konnection
Share Video: Kismet Konnection Movie Theatrical Trailer with your friends on Facebook.
RELATED BOLLYWOOD STORIES:
«« Akshay And Kareena In Imtiaz Ali's Next | Video : Bakuda Tumhi Ho Song From Kismat Konnection »»