20,059 views
Vijay Acharya's Tashan spelled doomed at the box office. Yash Raj Films dismal offering Tashan which meant style was totally void of it. The Kareena Saif chemistry fell flat on its face. The script was said to be thinner than Kareena Kapoor's waistline.
But still some people were drawn to the theatres to watch Tashan. Any guesses why? Yes, it was ofcourse to catch Kareena Kapoor in a bikini. And now here for all those who just wanted to watch Kareena Kapoor in a bikini and not go to the torture of seeing the flick, here are some exclusive pictures of Kareena Kapoor's bikini scene.
 Pic : Kareena Hot  Bikini Scene In Tashan

Check out more hot and sexy pictures of Kareena Kapoor in a bikini in Tashan movie.
Pic : Sexy Kareena Kapoor In Tashan Bikini Picture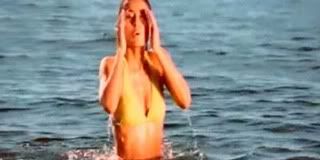 Pic : Kareena Kapoor Bikini Scene From Tashan 
Share Pics : Hot Sexy Kareena Kapoor Bikini Scene In Tashan with your friends on Facebook.
RELATED BOLLYWOOD STORIES:
«« Video : Exclusive Theatrical Promo Of Sarkar Raj | Video : Dil Dance Maare Re Song Trailer From Tashan »»