3,858 views
We were told that Karan Johar's Dostana will fiddle with controverssy and here's the reason why. According to sources in the industry, John Abraham is set to star as a gay in the movie. Karan Johar who did give a comic touch to the gay relationship with the Kaanta Bhen stuff in Kal Ho Na Ho, will be having John play the role of a gay in his upcoming film Dostana.
Dostana also stars Abhishek Bachchan and Priyanka Chopra. Shilpa Shetty will be seen performing a hot bikini item number in the film. 
Says an insider on condition of anonymity, "The love triangle in the film is between Abhishek-Priyanka-John. Abhishek loves Priyanka in the film. But Priyanka likes John. Abhishek and John play good friends. So for the sake of friend Abhishek, John fakes as if he is a gay to repel Priyanka". This is the first time that John Abraham (or for that matter any mainstream actor) would be playing a gay character in a Hindi film.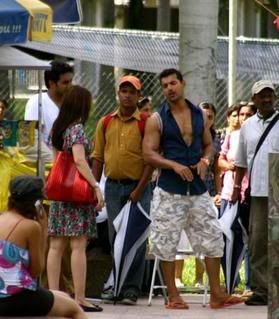 Pic : John Abraham In Dostana 
 And to add more confusion in the plot, we have  Bobby Darling playing a real gay in the film who is attracted to John Abraham who takes up the gay garb just for the sake of his friend.
Dostana which is set to release later this year, surely has something different to offer.
Share John Abraham Is A Gay In Karan Johar's Dostana with your friends on Facebook.
RELATED BOLLYWOOD STORIES:
«« Pic : John Abraham And Shilpa Shetty's Pictures From Dostana | Video: Bachna Ae Haseeno Theatrical Trailer »»