18,947 views
 The Bengali beauty, Riya Sen surely had a short lived Bollywood career. With one flop after another and with performances just getting worse with every film, Riya Sen was seen retiring from the big screen.
And now Riya is back to what she does best, pose in front of the camera. Catch some pictures of the sexy actress/model posing backless for a photoshoot. Surely she looks beautiful and sexy until she opens that mouth of her's.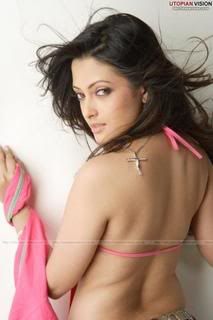 Pics : Hot Riya Sen Backless Photoshoot
Pic : Sexy Riya Sen Goes Backless In Hot Photo
Share Pics : Hot Riya Sen Backless Photos with your friends on Facebook.
RELATED BOLLYWOOD STORIES:
«« Video : Neha Oberoi Kissing Scene From WoodStock Villa | IIFA Nominations For 2008 IIFA Awards »»