2,213 views
Yash Raj Film's Tashan directed by Vijay Acharya is all set to hit screens on 25th April. The music of Tashan by Vishal Shekar has managed to get its grip on the youth of the nation. And with Saif and Kareena being the current talk of town, the heat around Tashan couldn't have been lesser.
For now check out the hot pair of Saif and Kareena dance superbly to the beats of Vishal Shekhar on Sukhwinder's Singh, Dil Haara Re.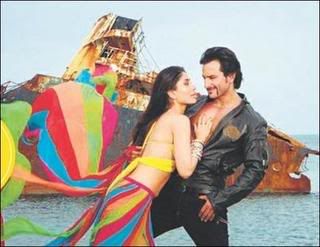 Pic : Dil Haara Re Song Still 
 Video : Saif Kareena's Dil Haara Song Trailer
Share Video : Dil Haara Re Song Trailer From Tashan with your friends on Facebook.
RELATED BOLLYWOOD STORIES:
«« Video : Sarkar Raj Theatrical Trailer (Promo) | Farah Khan Finally Names Her Triplets »»