5,571 views
Kareena Kapoor disaapointed many of her fans when she said, that there was no bikini scene of hers in the upcoming Yash Raj film Tashan. But  there is not much reason to get disappointed, if Kareena's wardrobe in the Chhaliya song are any indication of her dressing in Tashan, then who needs to see her in a bikini
Directed by Vijay Krishna, Tashan is the biggest release this month. The music by Vishal Shekar is already climbing up the music charts and is all set to become a chartbuster.
Tashan stars Kareena Kapoor, Saif Ali Khan, Akshay Kumar and Anil Kapoor and is set for a 25th April release.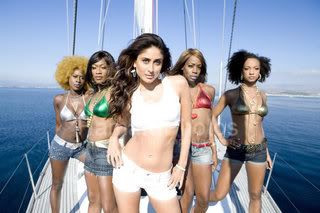 Hot Picture Of Kareena Kapoor From Tashan
Video : Kareena Kapoor In Hot Chhaliya Song Trailer From Tashan  
Share Video : Kareena Hot Song Chhaliya From Tashan (Promo) with your friends on Facebook.
RELATED BOLLYWOOD STORIES:
«« First Look : Kareena And Salman's Main Aur Mrs. Khanna | Aishwarya Rai On Why She Turned Down Karan Johar's Dostana »»