7,861 views
Amrita Rao who has been having a quiet career since her last hit Vivah. The beautiful actress who was last seen in the pathetic Anthony  Kaun Hain, has decided to keep in touch with her audience, but this time with a music video.
Amrita Rao will be seen in a music video by Jal Band. The song Chalte Chalte will have Amrita Rao endorisng for Kwality Walls Love Sparks Ice cream along with the Jal Band. Apparently Amrita also fell in love with Jal singer, Farhan Saeed while shooting for the music video.
Check out Amrita Arora's music video with Jal Band, Chalte Chalte.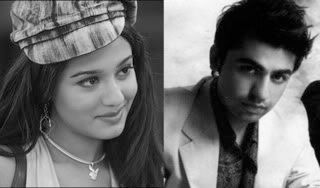 Pic : Amrita With Boy Friend Farhan From Jal
Video : Chalte Chalte Song Jal Feat Amrita Rao 
Share Video : Chalte Chalte Song With Jal Band And Amrita Rao with your friends on Facebook.
RELATED BOLLYWOOD STORIES:
«« Video : Hot Kareena Kapoor In Chhaliya Song Trailer From Tashan | Pics : Exclusive Vidya Balan Photos With Her Family »»