1,162 views
The star attraction at the box office will be Yash Raj Films, Tashan. Directed by Vijay Krishna Acharya,  Tashan is set for a release this April. The music has just released and is soon set to rock the music charts.
Yash Raj movies recently are just a mediocre offering in a lavish wrapping. and Tashan is no exception. Here is a brief preview of the stylised Tashan.
Tashan Movie Preview  
What happens when you throw two guys who hate each other together…
A cool call center executive Jimmy Cliff (Saif Ali Khan), a desi wannabe gangster Bachchan Pande (Akshay Kumar) add for good measure a beautiful girl Pooja (Kareena Kapoor) who can't be trusted… on a journey across spectacular India… a journey which will alter the course of their lives in more ways than one… a journey where even enemies need to trust each other if they want to be alive…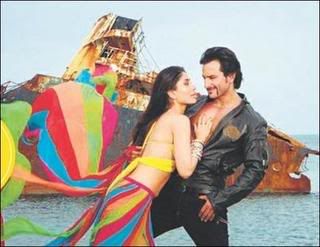 Saif And Kareena Tashan Movie Still
Trouble is, in this world no one can be trusted ever!
And to top it all there is the evil eye of Bhaiyyaji (Anil Kapoor)… a maverick gangster who enjoys killing people as much as he enjoys speaking English…
What you get is… TASHAN.

Share Movie Preview : Tashan with your friends on Facebook.
RELATED BOLLYWOOD STORIES:
«« Trailer Of Singh Is King To Be Out With Tashan | Himesh Reshammiya's Next Film : Mudh Mudh Ke Na Dekh Mudh Mudh Ke »»