4,348 views
Himesh Reshammiya who has seriously taken the road to acting and tormenting the audiences, was in news for his remake of Karzzzz. If that was not enough, Himesh is all ready for his next release Mudh Mudh Ke Na Dekh Mudh Mudh Ke The man surely has enough arsenal to doom your movie watching year.
Mudh Mudh Ke Na Dekh Mudh Mudh Ke is a love triangle featuring Himesh and two newcomers, Jennifer Kotwal and Niharika Singh.
It was earlier titled Chemistry but then producer Aditya Singh had second thoughts. "We felt that chemistry is too anglicised a word. The aam audience would not connect with it. Also, it would be difficult to come up with a hit-hop title track which has been Himesh's forte, if the focus was the word chemistry," Singh points out.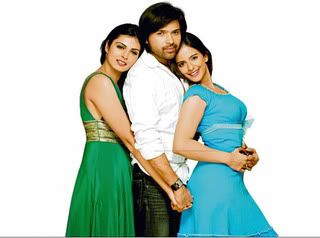 First Look : Himesh Reshammiya's Mudh Mudh Ke Na Dekh Mudh Mudh Ke
Directors Seema and Sudhir, Reshammiya and Singh met and the consensus was that the title should be more Hindi-centric and universally acceptable since the film will be shot in Punjab and Delhi.
"A major chunk will be filmed in Paris too. It's going to be one of the most expensive films in Indian cinema," says an excited Singh. After some brainstorming a line from the Shree 420 chartbuster was picked up as the title of the Himesh starrer..
Mudh Mudh Ke Na Dekh Mudh Mudh Ke.. does Singh want to set a world record for longest title?
He laughs, "If you find it too long you can call it M2KNDM2K like we do.But seriously, changing the title has proved to be a blessing. Himesh has come up with a title song that rocks."
Article Inputs : Hindustan Times
Share Himesh Reshammiya's Next Film : Mudh Mudh Ke Na Dekh Mudh Mudh Ke with your friends on Facebook.
RELATED BOLLYWOOD STORIES:
«« Movie Preview : Tashan | Video : Hot Kareena Kapoor In Chhaliya Song Trailer From Tashan »»