34,627 views
Tashan which is all set to release later this summer has managed to create large amount of buzz despite minimal publicity. And why not. The film comes from the Yash Raj stable. Starring Anil Kapoor, Saif Ali Khan, Akshay Kumar and Kareena Kapoor, Tashan is all set to bring on the heat this summer.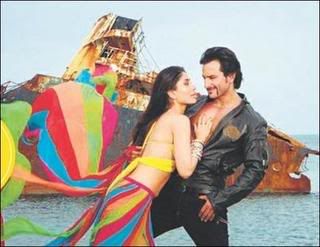 Pic : Saif Ali Khan And Kareeena Kapoor Tashan Song Trailer
And for all our readers we have an exclusive trailer of Saif and Kareena from Tashan.
Video : Exclusive Kareena And Saif Tashan Song Promo (Trailer)
Share Video : Kareena Kapoor And Saif Ali Khan In Tashan Trailer with your friends on Facebook.
RELATED BOLLYWOOD STORIES:
«« Celina Jaitley Angered By Inzamam's Comments | Exclusive Pics : Aamir Khan's Bald Look In Ghajini »»