7,339 views
After going backless in a Filmfare shoot . Kareena seems to go one step further in Yashraj Film's next, Tashan. The action packed film Tashan, which is set to release this summer will have Kareena Kapoor go topless.
Sources from the sets of Tashan have reported that Saif wanted the film to have a slight edge, and suggested the topless scene. He first put the idea to Kareena, who immediately agreed, and then went to the film-makers with the plan.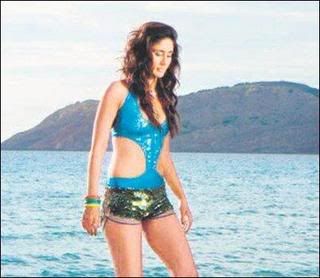 Pic : Kareena Kapoor To Go Topless For Tashan ?
Kareena is expected to be seen top-less, but only her back, while from the front she will be seen wearing just a bikini. She will be seen coming out of the swimming pool and undressing. The scene was kept under wraps and not many were present on the sets when it was filmed.
There were slight reservations from Kareena, as she thought her figure was not the best at the time, but Saif Ali Khan told her she was perfect and it would be great for her career and the prospects of the film at the Box Office.
Share Kareena Kapoor Goes Topless For Saif In Tashan with your friends on Facebook.
RELATED BOLLYWOOD STORIES:
«« Sonam Kapoors Private Pictures Online | The Yuvraj Raima Sen Romance »»