3,524 views
Normally stars like to keep their love affairs all hushed up and under wraps. But newcomers Deepika Padukone and Ranbir Kapoor seem to have no qualms to publicly declare their love for each other. After Ranbir Kapoor expressed his feelings for Deepika in an interview, it was Deepika's turn to reciprocate.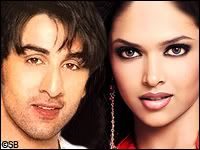 How did your romance with Ranbir begin?
We met while we were shooting for our respective debut films (Om Shanti Om and Saawariya). At that point of time it was very different because he hadn't been in the limelight at all. It was a completely new thing for him whereas I was used to it, having been a model. We were both very involved with our films then. So we didn't really get too much time to spend with each other. We went our separate ways after our movies were released and we just disconnected. Then we got together again when we were doing Siddharth's (Anand, director) movie (Yash Raj Films). We were together for a month and that's when it started.
Was there any attraction even when you two had met earlier?
Yes, we got along well even then. But we didn't get too much time to be in a relationship. We thought 'let's not rush into anything'. We are young and we both have our careers to pursue. We also knew that at some point we would be working together and there would be enough time to get to know each other.

How does it feel being in love?
It's a fantastic feeling. He is very caring. I am glad that I am finally in a relationship where my man loves me so much and for what I am. Also, when we met again, so much had already happened in our respective lives. We came from two different spaces. But we connected. The fact that both our families are also happy about this relationship makes it easier.

What do you think of his parents?
They are wonderful. His mum (Neetu Kapoor) is very sweet. Kapoors are loving people. They are all foodies. It's another thing common between us. He loves to see me eating the way I do, because the other women he knows are always picking on ghas phoos.
Since he comes from a filmi background, do you seek his advice?
He is everything to me. He is someone I can talk to about everything and that's the beauty of our relationship. Actually, I prefer not to discuss work with him as after a long day it would get too much. We enjoy doing a lot of other things and spend as much time with each other as we can. Yeah, I can ask him for suggestions because he would know better about this industry.
Did you like the towel dropping scene in Saawariya?
(Blushes) I have seen the movie. In fact, I watched the movie with him in Sydney. I saw the song and I think it's cool. I keep teasing him that he's become a gay icon.

So guess it's time for Mahendra Singh Dhoni and Yuvraj Singh to go girl hunting. What say?
Share Deepika Admits Her Love Affair With Ranbir Kapoor with your friends on Facebook.
RELATED BOLLYWOOD STORIES:
«« Hot Pictures : Katrina Kaif Hot Shots For Maxim Cover Shoot | Video : Exclusive Promo Of Amitabh Bachchan's Bhoothnath »»