6,474 views
Ranbir Kapoor and Deepika Padukone are Bollywood's latest love birds. The two who openly proclaimed of their love for each other at this year's Filmfare Award, are the latest buzz that has hit Bollywood.
Here is Ranbir Kapoor in an exclusive interview, revealing his love for Deepika Padukone and talking about his Yash Raj Film, Bachna Ae Haseeno.
You play a Casanova in the Yash Raj Film?
It's called Bachna Ae Haseenon; and I wouldn't say that. It's the journey of this man and the different relationships in various phases of my life.
Why was Katrina Kaif's role knocked off?
It was getting too long. We had lots of discussions. And it was in the best interest of the film. Nothing personal. And it wasn't only because we hadn't shot her episode as yet.

Apparently, you get to kiss all your heroines in Bachna Ae Haseenon?
That's absolutely incorrect.

And now you're doing another film with Katrina!
Yes. She was already part of Raj Kumar Santoshi's film when it came to me. It's a lovely romantic comedy. I'm looking forward to working with Mr Santoshi who's one of my favourite directors. He's definitely one of the master storytellers of our times. He's worked with my father in Damini. And now it's my turn.
Have you been offered Aamir Khan's Delhi Belly?
Yes, I have. I'm honoured that someone of  Aamir Khan's talent wants me to work in his film. We're working on the dates. I'd love to be part of it.
There were rumours that you were in Mani Ratnam's film?
I am, actually. But not in the Abhishek-Aishwarya one. He has contacted me for a film that he wants to do next year. I really want to work with him. I also want to work with Imtiaz Ali, Aditya Chopra, Farhan Akhtar…oh, so many directors. I'm like a kid at a toy store.
You've been linked with a gallery of gorgeous women in the last two years?
I think it's very unfair for the women who are linked so carelessly with me. I can imagine how embarrassing it is for the girl and her family. Me being linked with Sonam Kapoor was inevitable. Every time two newcomers do a film together they're supposed to be involved. We've been friends since childhood. She's an amazing girl. Anyone would want her as a girlfriend. But we aren't seeing one another.
Finally how does life look to you?
I'm extremely happy about the appreciation I got for my first film. My parents are very proud of me, and that makes me happy. And I'm very happy in my relationship with Deepika. I'm in a very happy place, I want to be this way all the time.
So are you seeing somebody?
Yes I am.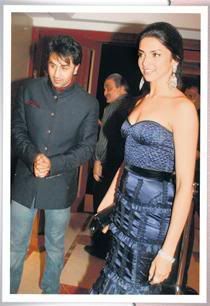 Are you seeing Deepika Padukone?
Yes, I am.

How long have you been seeing her?
We've been dating for the past couple of weeks.
Weren't you linked with her earlier as well?
I was. But at that time we were just friendly. We weren't seeing each other.
Is this serious?
Do I look like a frivolous person to you? But before you ask, we aren't getting married right away. Let's see where it goes. And neither are we going to sign films just to be together. She has her career to focus on. I have mine. Coincidentally, we started our careers on the same Friday. We've our priorities in place.
Tell me about Deepika.
Beyond all the grace and dignity she projects, she's also very simple and shy. She has simple needs. She's caring. And she respects her family. I really like that. Also she's an independent career woman at 22. She's achieved so much in so little time. I'm extremely proud of her achievements. And I'm so happy to be part of her life.
When did you get close to her?
While we were shooting in Australia for a month for Bachna Ae Haseenon. That's when we really got to know each other. Then we shot a Pepsi ad together when we returned to Bombay.
 Are you able to be professional with her when the camera is on?
I know when to switch on and off. When Deepika and I are working together, I focus only my character. Yes, it helps the chemistry when you like your co-star. When you don't like your co-star, that shows too.
Have you met her parents?
Oh yes! They're extremely nice and caring people.
 And has she met your parents?
Oh yes. I tell my mother everything. So there was no way I could be in a serious relationship without my parents knowing.
Share Ranbir Kapoor Accepts His Love Relationship With Deepika Padukone with your friends on Facebook.
RELATED BOLLYWOOD STORIES:
«« Hrithik With Barbara Mori In Rakesh Roshan's Kites | Ayesha Takia As An Alien In Jaane Kahaan Se Ayie Hai »»