17,649 views
Here is an exclusive tit bit about Hrithik Roshan's next film with papa Rakesh Roshan. With Krissh 2 in the pre production stage, Rakesh Roshan has already planned another film with son, Hrithik.
Hrithik who is fresh with the success of Jodha Akbar will star alongside top Latin actress Barbara Mori in Rakesh Roshan's next film that is tentaively titled "Kites".
"The girl's role is extremely bold. Actually, we have decided to cast someone international because that's the personality and profile of the leading lady in my film," Anurag Basu, who will direct the film, was quoted as saying.
Several names had been put forward for the leading lady's role. Apparently, Rakesh Roshan, who is very close to Anil Kapoor and quite fond of Anil's daughter Sonam, wanted to cast her.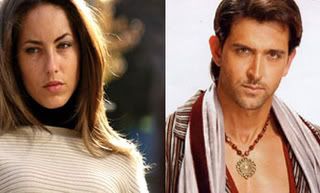 Pic : Hrithik Roshan With Barbara Mori In Kites 
Sonam, who is conscious of her conservative image, excused herself because the role required the girl to get `seriously sexy with Hrithik.
The film is also starring Kangana Ranaut while Rajesh Roshan will score the music for it. The remaining cast and credits are currently being finalised in Mumbai and Los Angeles. "Kites" is to be shot in New Mexico, Las Vegas and Los Angeles in the US.
Share Hrithik With Barbara Mori In Rakesh Roshan's Kites with your friends on Facebook.
RELATED BOLLYWOOD STORIES:
«« Video : Pritam's Pehli Nazar From Race Is Copied | Ranbir Kapoor Accepts His Love Relationship With Deepika Padukone »»