21,970 views
Ranbir has been associated with many women, while Deepika Padukone's association with cricketers Yuvraj Singh and Mahendra Singh Dhoni has been making headlines. But according to the latest rumors, it's  Deepika And Ranbir Kapoor who are seeing each other. Deepika and Ranbir were reportedly seen confessing their love for eah other at Filmfare Awards 2008. The two of them who were jubliant on winning their first Filmfare Award as best debutante's were seen confessing their love for each other backstage.
Deepika and Ranbir who were earlier in a torrid affair had parted ways as Ranbir's parents were not fond of Deepika Padukone. But the two of them seem to have rekindled their love while shooting for Siddharth Anand's coming film.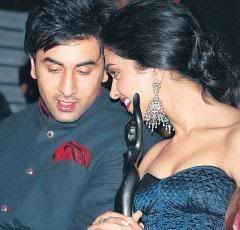 Pic : The Deepika Ranbir Love Affair 
Here is what one eye-witness at the Filmfare Awards Night said:
"The couple came together backstage and stood huddled waiting for their entry. Probably to alleviate the tension, Ranbir looked deep into Deepika's eyes and whispered, "I love you". Deepika smiled shyly and whispered right back, "I love you too".
The two really make a great couple and we at movietonic.com wish that Deepika Padukone's and Ranbir Kapoor's relationship lasts for long.
Share Ranbir Kapoor And Deepika Padukone Confess Their Love At Filmfare Awards with your friends on Facebook.
RELATED BOLLYWOOD STORIES:
«« Emraan's Smooch Act On Star Voice Of India Disgusts Pritam | Pic : Hot Kareena Kapoor On Vogue Magazine Cover »»