1,000 views
Sanjay Dutt's  marriage to item girl Manyata may have got some form of happiness in Sanju Baba's life but it has caused a rift with his sisters and daughter. Reportedly, Sanju's relationship with his sisters Namrata and Priya has hit a low after the news of his marriage broke out in the media. His sister Namrata went on to say that Sanjay has drifted away from his friend and family after his affair with Manyata.
It is also known that Manyata does not like Sanjay meeting his family and friends and she is said to be the prime reason for his split with long friend Sanjay Gupta. Sanjay's decision to change his residence as he needs more privacy has also not gone too well with his sisters. Manyata is not popular with Sanjay's daughter Trishala and it is said that the relationship between the father and daughter has also hit a low.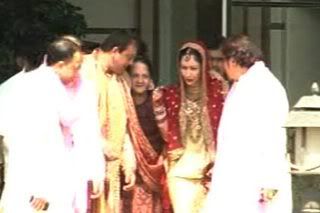 Pic : Sanjay Dutt and Manyta's Wedding Photo
Share Sanjay's Marriage With Manyata Leads To Problems with your friends on Facebook.
RELATED BOLLYWOOD STORIES:
«« Pic : Sanjay Dutt And Manyta's Wedding Exclusive Photos | Sanjay And Maanyata To Become Parents »»