955 views
Actor Sanjay Dutt finally tied the knot with his long time  beau Manyata at the Taj Exotica in Goa on February 7 under the Special Marriage Act, 1954, in front of a few close friends as witnesses.  Sanjay and Manyata Dutt had their marriage vows according to Hindu rites on Monday in Mumbai.
The wedding reportedly took place at Manyata's friend, Pradeep's house.
Sanjay Dutt who has previously been married twice, seemed very happy with this new twist in his life. Last month, the actorcompleted the divorce proceedings with ex-wife Rhea Pillai. Before that Dutt had been married to actress Richa Sharma.
A source said, "Two officers from the registrar of marriages in Goa were called to the hotel to solemnise the marriage on February 7.
Among the witnesses present in Goa were Dharam Oberoi, the CEO of Sanjay Dutt Production, and the actor's business manager and close friend Bunty Walia, who had flown from Mumbai a day after a TV awards function, for the marriage."
Oberoi, who is Manyata's godfather, reportedly gave away the bride. Oberoi's actress daughter Neha, and Dutt's closest friends Ajay alias Bittu and Prashant (a common friend of Fardeen Khan and Dutt) were the other witnesses at the wedding.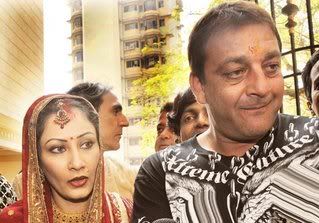 Pic : Sanjay Dutt and Manyta Get Married
The groom was casually dressed in a yellow T-shirt and jeans and the bride glowed in her simple purple T-shirt and trousers. The Dutt family wanted to keep it a personal affair. Just after the marriage in Goa, the actor went back on the sets of the film Kidnap .
The marriage ceremony took place while Dutt was shooting for Suniel Shetty's production, EMI, in Goa.
TOI has learnt that Dutt presented Manyata a diamond ring worth Rs 40 lakh as wedding gift. "She was spotted wearing sindoor at a school function (see video) on Saturday evening," a source said.
"It was the first time we saw her wearing sindoor , which indicated her married status." Manyata refused to comment, although she did mention to some mediapersons that her husband would be the best person to answer the question. Sanjay and Manyata have been seeing each other since October 2006.
Share Breaking News : Sanjay Dutta and Manyata Get Married with your friends on Facebook.
RELATED BOLLYWOOD STORIES:
«« Video : Hot Katrina Kaif In Zara Zara Touch Me Song Trailer From Race | Pic : Sanjay Dutt And Manyta's Wedding Exclusive Photos »»