11,982 views
Saif and Kareena Kapoor's romantic relationship was a shocker for most fans, when it was revealed that Kareena had broken her six year long love tale with Shahid Kapoor, the news seemed impossible. But today, Saif and Kareena have become Bollywood's favorite love birds.
Now here's another rumor that's doing rounds in the Bollywod circuit.According to reports on a popular news daily, Saif Ali Khan and Kareena Kapoorhave secretly tied the knot.
The two were reported to have married in a hush-hush ceremony to escape the unwanted media glare. If rumours are to be believed, Saif even gifted a BMW to Kareena as a wedding present.
If rumors are to be believed, it is said that Saif and Kareena got married at Saif residence in Bandra on Wednesday. Kareena recently was seen sporting a ring on her finger. It has just been three months into the relationship and now it seems that 37-year-old Saif has finally met his match when he exchanged marriage vows with his 27-year-old lady love Kareena Kapoor.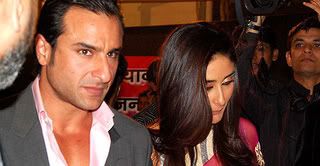 News : Saif and Kareena Kapoor Get Married 
Though all this is creating big waves in the Bollywood circle, the hero, Saif Ali Khan has strictly denied his marriage with the Kapoor girl. Saif has expressed grief, about all these rumors about him putting him and his family in bad light, in an interview given to a private TV news channel today.
Last year rumor mills were churning with news of marriage between, Rani Mukherjee and Aditya Chopra as well as Katrina Kaif and Salman Khan tying the knot. But all these rumors bit the dust, guess it's time for another rumor to come crashing down.
Share Saif and Kareena Kapoor Married with your friends on Facebook.
RELATED BOLLYWOOD STORIES:
«« Review : Mithya (Movie Review) | Pic : Kareena Kapoor's Hot Bikini Pictures In Tashan »»