1,558 views
After delivering a commercial success in the form of Bheja Fry last year, director Rajat Kapoor comes up with another witty film, Mithya. Starring Ranvir Shorey, Brijendra Kala, Neha Dhupia, Naseeruddin Shah in the lead, Mithya hits the screens this week.
Here is a review of the film, by Bollywood's top critic Rajeev Masand ….
Sometimes just talking about a film spoils the fun of watching it. It's true what they say about some films — the less you know about it before you go watch it, the better. Rajat Kapoor's Mithya is exactly that kind of film, so you can understand my dilemma even as I attempt to review the film here.
Much like Superstar, the other film at the cinemas this week, Mithya too revolves around the life of a struggling Bollywood actor.
Ranvir Shorey plays VK, the struggler in question, whose life turns upside down when he gets inadvertently involved with the underworld owing to the striking resemblance he bears to a person they have not-so-noble interests in.
Alas, that's as little as one can reveal about the film's plot without giving out spoilers galore. Mithya is one of those rare films that constantly surprises you, it's one of those films that never stops unravelling, a film that never reveals all its cards at once.
If that's what you're looking for on an evening out at the movies — unpredictability, surprise, the unfamiliar — then Mithya is your best bet. In fact, it's got more surprises than both Johnny Gaddar and Manorama Six Feet Under.
Starting off as a comedy, Mithya straddles several genres as it makes it way from start to finish — thriller, romance, suspense — but eventually it settles comfortably into its identity as a black comedy.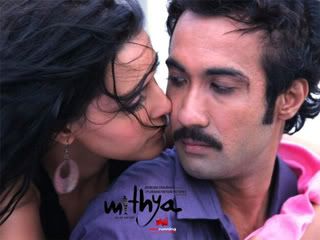 Pic : Mithya Movie Review  
Working off an ingenious screenplay, director Rajat Kapoor delivers a deliciously complex offering — a film about an ordinary man in a bizarre situation, but all the while it remains a story that's entirely believable because the characters are so real and the situations so cleverly constructed.
Sure you lament the absence of humour in the film's second half, and it's true the film seems much longer than its 100-minutes running time, but those are just small hitches in an otherwise immensely engaging film. Much of the credit for realising the director's vision must go to the ensemble cast, possibly the best assembled for a Hindi film in recent months.
Ranvir Shorey, in a performance that merits an impromptu ovation, goes from funny to heart-breaking, to confused, to adorable in a matter of minutes. Never once going over-the-top, in fact staying firmly in character even as the film takes many twists and turns, Ranvir makes your heart go out to VK.
The year has only just begun, but I'm willing to bet, this is easily one of 2008′s finest performances by a leading actor. What's more seldom has a supporting cast delivered such consistent performances that it's difficult to pick one over the other in the order of merit — a loud round of applause hence, for Vinay Pathak, Brijendra Kala, Harsh Chhaya, Neha Dhupia, Iravati Harshe, Saurabh Shukla and Naseeruddin Shah who shine in their roles.
Mithya is a brave, mature effort by a discerning director, it's a film with so many layers, you're unlikely to be bored. I'm going with four out of five and a recommendation not to miss this film. For every single one of us who complains that Hindi films are mindless and predictable, here comes a film to shut us up. Rajat Kapoor, take a bow!
Source : ibnlive.com 
Share Review : Mithya (Movie Review) with your friends on Facebook.
RELATED BOLLYWOOD STORIES:
«« Video : Main Chala Song Promo From Black An White | Saif and Kareena Kapoor Married »»