7,903 views
Last year was filled with highs and lows for Kareena Kapoor. On the personal front, she broke up her long standing relationship with Shahid Kapoor and found an able partner in Saif Ali Khan for  support. Her romantic relationship with Shahid might have suffered a jolt last year, but their onscreeen chemistry in Imtiaz Ali's Jab We Met had the crowds going gaga. Not only was Jab We Met a huge commercial success, Kareena also won the actress award for her immensely likeable character in the film.
Kareena Kapoor  recently posed for the Filmfare February edition. Here's Kareena baring her back and posing the question "Who gets love bites on the back?". Surely Filmfare has managed to do a good job this time round.
Check out the extremely hot Kareena Kapoor going backless on Filmfare cover.
Pic : Hot Kareena Kapoor Backless On Filmfare Cover Magazine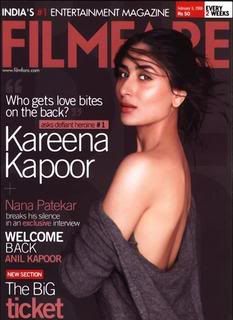 Share Pic : Kareena Kapoor Backless Photo On Filmfare Cover with your friends on Facebook.
RELATED BOLLYWOOD STORIES:
«« Video: Theatrical Trailer Of Tashan | Video: Theatrical Trailer Of U Me Aur Hum »»