9,097 views
Shah Rukh Khan has really done the impossible. At 40 he has managed to get the six pack abs that any youngster would die for. And it was not an overnight phenomenon, Shah Rukh along with his personal trainer has to go through a rigorous routine and a strict diet for 4 months to get the six pack. And now that he has bared the six pack for Farah Khan's Om Shanti Om in the Dard E Disco song, the King Khan doesn't want to let go of them.
Though Shah Rukh admits that maintaining the abs are more difficult than building them, he promises to keep his six pack safe and doesn't want it to be just a one movie show.
But for now he is buasy flaunting his six pack on television promos of Om Shanti Om and now even Filmfare has grabbed up Shah Rukh Khan shirtless on their cover page. So that's another cherry on Shah Rukh's cake.
Here are some exclusive pictures of Shahrukh Khan On Film Fare magazine flauting his six pack abs.
 Pic : Shah Rukh KhanOn Filmfare Cover Story
Check out more exclusive pictures of Shah Rukh Khan and his six pack abs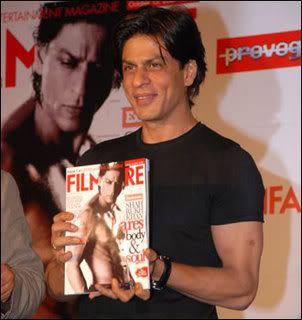 Speaking to CNN IBN Shah Rukh said "I am very embarrassed, people come to see my abs and not my acting. Actually I am very shy of photo shoots".
When asked if was there just to flaunt his six-pack abs cover, or to promote Om Shanti Om, he said, "Well it's just not a promotional event for Om Shanti Om, its my relation with Filmfare as well."
Share Pic : Shah Rukh Khan Bares His Six Pack Abs For Filmfare with your friends on Facebook.
RELATED BOLLYWOOD STORIES:
«« Shankar Ehsaan Loy To Give Music For Disney's High School Musical 2 | Hrithik And Suzzane To Have Another Child »»