757 views
Though Sanjay Dutt's personal life is in a mess, due to his TADA case, his professional life doesn't seem to be deterred. Sanjay Dutt has got a six years rigorous imprisonment sentence, but that hasn't stopped producers signing on Sanju Baba for their films.
Close friend and producer -director Sanjay Gupta, has signed Sanjay Dutt in Alibaug. Sanjay Gupta reveals that the film will be a semi autobiographical film
Talking about Alibaug Sanjay Gupta says "I'm directing a simple small film called Alibaug. It's based on a critical phase of my life. It has no big-screen stars but the creme de la creme actors from television. A lot of this film deals with my own life."
Sanjay Dutt will make an appearance in Alibaug. "He freaked out when I told him the concept. We remembered how Kaante was supposed to be a 1.5 crore rupee film and shot in a chawl. It instead went to LA. That's what happens when Sanjay Dutt comes on board. I wanted Alibaug to remain small and real. It was inspired by a trip I took to Alibaug recently with my niece and her friends. The peace and happiness I felt proved I had exorcised the demons within me. I reached a kind of plateau with dark films with Zinda. It reflected my state of mind. Alibaug will be much lighter. It will make audiences smile. I had to reinvent myself."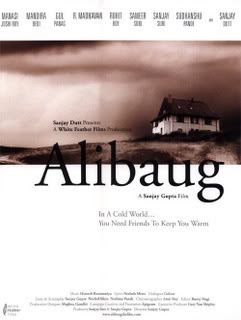 Pic : Alibaug Movie Poster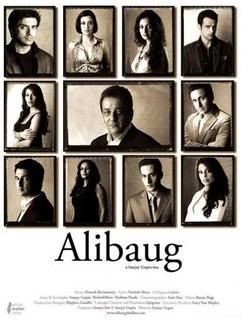 Pic : First Look Sanjay Gupta's Alibaug
Alibaug is a multi-starrer which has a cast compromising of names like; Sanjay Dutt, Dia Mirza, Gul Panag, Sanjay Suri, Sameer Soni, Rohit Roy, Masumeh, Pravin Dabbas, Sophie Chaudhary, Sudhanshu Pandey, Manasi Joshi and Shabana Raza
Alibaug Movie Preview
Alibaug revolves around a dying professor who wants to meet his favourite group of students one last time. Produced & directed by Sanjay Gupta, Alibaug has music by Himesh Reshammiya and is slated for a late 2007 release.
Share First Look : Sanjay Dutt's Alibaug with your friends on Facebook.
RELATED BOLLYWOOD STORIES:
«« Video : Making Of The Deewangi Song From Om Shanti Om | Bhoomika Chawla Wedding Pictures »»