4,973 views
Karan Johar's next episode of Koffee with Karan sees the promising newcomers of Bollwood sipping the Coffee.This Sunday(8th April 2007), Karan Johar welcomes Ritesh Deshmukh, Konkona Sensharma and Kunal Kapoor to have some real hot cofee with him.

The talented actors have quite a blast with Johar, and his insanely casual chat style. Here are some memorable snippets: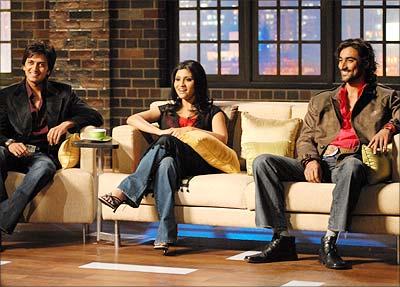 Karan: Your father, when he saw you [in drag] in Apna Sapna Money Money, what was his reaction?
Ritesh: He was like, 'is that you? What's wrong with you?'
Karan: When you were on the sets, was there any man who hit on you? Who?
Ritesh: Anupam Kher. And Chunky Pandey asked me, 'what are you doing after the shoot? Will you join me for coffee?'
Karan: So, Chunky Pandey and Anupam Kher actually hit on you ?
Ritesh: As in, they asked me for 'coffee?' (laughs)
Karan: So you and Hrithik Roshan are childhood friends?
Kunal: Ya
Karan: Tough act to follow
Kunal: It's just very annoying. I call him up every day, and tell him how much I hate him. Because every time you feel you are doing something good, he sets the standard a little higher and then you have to make double the effort. I love him as a person but I hate him professionally, and I make sure I tell him that.

For the rest of the spicy and fun filled conversation — which includes Ritesh admitting he'd hate to have Kareena Kapoor tie him a rakhi, and Konkona talking about the one mainstream actor she'd love to date and to know who would win the coveted Coffee With Karan "Coffee Hamper" you will have to catch the show.
Koffee With Karan is on this Sunday, April 8 at 9 pm on Star World and Star One. You Better not miss it.For it's gonna be fun
Share A Sneak Peek Into This Week's Koffee With Karan with your friends on Facebook.
RELATED BOLLYWOOD STORIES:
«« Video: Kya Love Story Hai Theatrical Trailer | Video : Exclusive Promo of Song Woh Ajnabi from Train »»